Brief History of Bellaire
Origin of Name:
Back in the early 1800ís the original post office serving the area was named KENO - In 1879 one of the early settlers Ambrose E. Palmer suggested the town be named BELLAIRE due to the clearness and purity of air.

Bellaire Incorporated:
Unorganized County of MEGUZEE was mapped out in 1840 and changed to ANTRIM in 1843 - Wasnít until 1879 that the legislature organized Antrim County, and Bellaire was incorporated and named the County Seat.

The Early Days: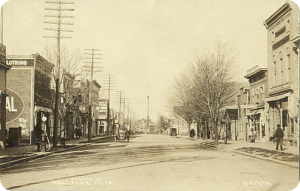 First birth, death, and marriage in the county was recorded in 1867 - First Election (66 votes) held April 6,1863. In these early days loggers, mill workers, and farmers were the main bread winners. Population in Bellaire reached and remained near 1000 for the first three decades. To supply electricity for Bellaire, a dam was built over the cedar river in 1902. Then, in 1907 another dam was built across Intermediate River to provide electricity for Charelevoix. This action then made some rivers become lakes, and sight seeing boats traveled the Upper and Lower Chain-O-Lakes.

The Big Fire - 1921
On July 14, 1921 at 2:30pm a cyclonic windstorm caused wires to short circuit, setting fire to a barn. Fire spread rapidly involving approximately 12 buildings, including the Riverside Hotel, Beanery, Carpenter Shop, Bakery, Tailor Shop, Hierligy Building, the Catholic Church, and four residences - The total loss in 1921 came to $300,000.

Re-Building & New Hope
The 1920ís and 30ís were lean years in Bellaire. Population dropped to 300, high school had three men teachers, one being the superintendent. In the 1940ís things brightened, new businesses formed, a theatre and restaurant were built in a burned out area of town - then, after World War II growth really became quite noticeable.

Bellaire Survives & Thrives
Growth and expansion in and about Bellaire was showing great strides. Rail and bus service, airport and hospital built, log cabin companies made prefab homes, development companies subdivided properties for home sites and businesses. Industry, resorting and county government provided employment for the local folks so that they might remain in the area. Now, the 21st century finds Bellaire poised in a position to move ahead much faster and further than it has ever experienced in its past history.