The Bellaire Inn has provided Northern Michigan with lodging for 8 years. Bellaire Inn is an approximately 12,500 square foot newly built motel located in the quaint Village of Bellaire.

This area is truly one of Michigan's best kept secrets. Celebrated as the "Heart of Antrim County" and the Chain O' Lakes Area, Bellaire a year round visitor's paradise. Twelve lakes connect the "Chain O Lakes" together for over 70 miles of the best fishing, boating and water fun that Michigan has to offer.

Perfectly located only 2 miles from Shanty Creek and Shuss Mountain or enjoy day trips to nearby towns like Alden, Elk Rapids, Traverse City, Gaylord, Charlevoix, Petoskey and Mackinac City.


Torch Lake

Torch Lake has been ranked by National Geographic as "the third most beautiful lake in the world." At 18 miles long, it is Michigan's longest lake, and is the state's second largest lake, covering an area of 29 square miles.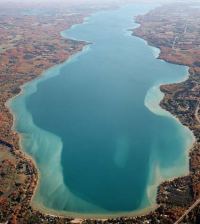 Torch Lake is located in northwestern Michigan's lower peninsula in what is referred to as the area's "chain of lakes" region. Many lakes and rivers run through the rolling hills from the town of Bellaire to Elk Rapids. One of the things that makes Torch Lake so beautiful is its' unusual color – a mixture of pastel green, blue and turquoise. Some have called it a "Caribbean Blue."



The Torch Lake area abounds with recreational opportunities such as swimming, boating, sailing, kayaking, hiking and biking, and much, much more. The average depth of Torch Lake is over 200 feet, making it a good habitat for trout and a great fishing lake. Other species in the lake are rock bass, yellow perch, small mouth bass, lake trout, brown and rainbow trout.




Even if you aren't a boater or a sport fisherman you will marvel at this lake. The water is extremely clear and you can simply drift away while relaxing at the shore.

The downtown is an easy walk with excellent shops and good places to eat.